Limit Wi-Fi in schools, group to urge public board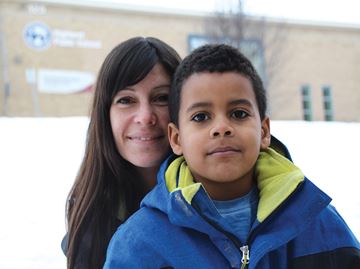 Sensitive issue
Lisa Rutledge, Times Staff
Cambridge mother Stephanie Brathwaite, seen here with son, Kymani, wants Waterloo Region District School Board trustees Monday to consider the potential harmful effects of Wi-Fi. She says her son has electromagnetic sensitivities.
CAMBRIDGE – Schools are putting children's health at risk by exposing them to Wi-Fi's electromagnetic waves, insists a group hoping to convince trustees to rethink the use of wireless Internet access in schools.
Cambridge mother Stephanie Brathwaite, who says her seven-year-old son Kymani suffers from electromagnetic sensitivities, will be addressing next Monday night's (March 24) Waterloo Region District School Board meeting to implore trustees to consider the impact wireless technology could be having on the health of its students and staff.
Brathwaite maintains her son, who attends Highland Public School, experienced sleeplessness immediately after Wi-Fi was installed at their west Galt home.
"He began grinding his teeth at night and clenching his jaw," she explained.
She soon discovered Kymani's anxious behaviour disappeared when she turned off Wi-Fi. Symptoms returned when the router was turned back on.
"I found that, lo and behold, it was in direct correlation."
Concerned about Kymani's sensitivities, Brathwaite started reading up on wireless technology and discovered studies documenting adverse short-term effects – including links to cancer – due to exposure to emissions from wireless routers and mobile devices.
Teaming up with the nationwide group, Canadians For Safe Technology – founded by former Microsoft Canada president Frank Clegg – Brathwaite wants the local public school board to do more to protect children by rethinking its current Wi-Fi practices. She plans to ask the board to consider wired connections, especially in elementary schools, to minimize risks of exposure for young children.
Brathwaite insists she isn't against technology.
"We want our kids to have access to the Internet and use of all of the latest technology," she said, "but until we know more, especially concerning our children, I feel we should err on the side of caution."
She has implemented safe practices at home, including disabling her cellphone's Wi-Fi when her son is close by.
She argues that parents don't have that choice when kids are in class, as every school is equipped with wireless technology.
The public school board has done its due diligence to ensure its wireless systems meet safety standards set by local and worldwide health authorities, including the World Health Organization, maintains Marilyn Allen, executive superintendent of business and financial services.
Allen acknowledged there is conflicting information on wireless technology's effects on health, but said the board concluded government health sources "do not and have not developed any concerns about safety".
Wireless technology is inevitable when it comes to modern living and learning, she noted.
"We all know that the world is going the way of Wi-Fi," said Allen. "We have an obligation to our students to prepare for that world."
Clegg, who will also be addressing trustees Monday night, doesn't disagree, but argues it's possible to mitigate negative impacts of Wi-Fi with prudent use of the technology, while simultaneously educating students and staff about safe usage.
"Nobody's saying we don't want technology or pull the Wi-Fi," he told the Times. "It's convenient, but we need to look at what mitigating factors we can put in place to prevent exposure."
He contends Wi-Fi frequencies and levels determined to be safe by health authorities are outdated and "woefully inadequate", leading school boards to base conclusions on a lack of evidence.
Safe use of technology campaigns would emphasize everything from limiting use of Wi-Fi – only turning it on when needed in a classroom – and by advising staff and students to take precautions like never putting a computer or laptop in their lap or placing a cellphone to their ear.
For more information about Canadians for Safe Technology, visit