6 Reasons Not To Buy Smartphone
Smart Phones Can Be Deadly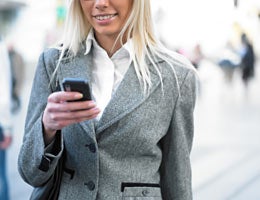 Beyond possibly killing the planet slowly with radiation and radio waves, your smartphone could actually be an actor in your own untimely demise.
Studies have shown that mobile phones impact the behavior of bees and could be contributing to the worldwide decline of bee populations. If one of the main pollinators ceases to exist, the world's food supply will plummet. Honey bees pollinate about $15 billion worth of crops in the U.S. annually, including some of the most common fruits and vegetables such as apples, oranges, blueberries, cherries, broccoli and carrots, according to the Natural Resources Defense Council.
And humans, as the main users of cellphones, are also potentially at risk of any number of ills, from reduced sperm count to brain tumors. In 2011, scientists from the World Health Organization declared that mobile phones are potentially carcinogenic.
All that aside, texting while walking or driving could pose the most immediate threat to your health and well-being, or that of others. One study released in January 2014 by researchers at Australia's University of Queensland found that texting and walking really isn't as easy as it would seem.
The researchers concluded that those who text or read on their phones and walk aren't as likely to be aware of their surroundings and are less likely to keep their balance or walk in a straight line.
While smartphones are great, they do come with some responsibilities and risks.


Read more: http://www.bankrate.com/finance/smart-spending/reasons-not-to-buy-smartphone-1.aspx#ixzz3DUnkJSl2
Follow us: @Bankrate on Twitter | Bankrate on Facebook