Catholic board trustees want report on possible health issues with wireless technology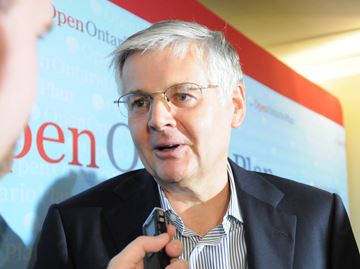 Frank Clegg
Oakville Beaver file photo
Halton Catholic District School Board trustees have requested a report from staff about the potential health dangers of wireless technology.
The request was made in response to a presentation at Tuesday night's (Dec. 16) board meeting by the former president of Microsoft Canada.
Speaking on behalf of C4ST (Canadians for Safe Technology), the non-profit, volunteer-based national coalition of experts and citizens he founded, Frank Clegg told the board his goals are to inform Canadians about what he says are the dangers of wireless technology and to work with all levels of government to create healthier communities across the country.
Based on input from teacher federations, including the Elementary Teachers Federation of Ontario (ETFO), his organization is requesting the Halton Catholic board allow teachers to turn off Wi-Fi routers in their classrooms when not needed, create an education and safety program for students and teachers, post the warnings from manufacturers of wireless devices and review the "significant flaws" in Safety Code 6, Health Canada's radiofrequency exposure guidelines.
As the board's policy I-43, Use of Technology and Digital Citizenship, is currently under review, Clegg said it was an opportune time for change.
"I believe there's a tremendous opportunity with the policy on Use of Technology and Digital Citizenship, to have the best of both worlds — to have the use of technology but provide a safer environment for teachers and students," said Clegg.
"You are relying on Health Canada Safety Code 6 and there are some severe concerns we have. We would appeal to you to invest a little bit of time to understand how shaky that foundation is that you're basing this decision on."
Clegg said studies have shown that radiation from cellphones and other sources penetrate deeper into the heads of children and that the use of cellphones before the age of 20 results in a five-fold increase in brain cancer. There have been thousands of peer-reviewed, published accounts showing links to cancer from cellphone use, said Clegg.
"No one, Health Canada or our regional or provincial health authorities, state Wi-Fi in schools is safe. They state there is no proof of harm and we need more studies," he stated.
Effects on children and teens can include developmental disorders, behavioural and mood problems, metabolic disorders and reproductive health, said Clegg.
"We should not rely on Safety Code 6 because it does not consider the multi-hour, multi-day exposure of today, nor the cumulative effects from multiple devices."
He cited examples of individual school boards that have chosen to significantly reduce their Wi-Fi usage or ban it outright.
Clegg said he had also delegated to the Waterloo and the Kawartha Pine Ridge District School boards but that neither had changed any of their policies yet.
"It takes time," he said.
Staff will report back to the board on its findings at a future date.